PJRC Update (no. 12, Fall 2019)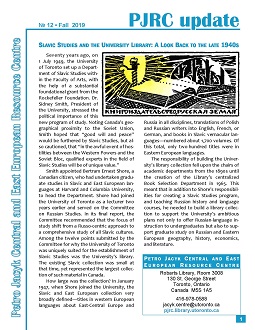 Content: Slavic Studies and the University Library: A Look Back to the Late 1940s | Brutally Ornamental: Mosaics of Late Soviet Modernism, 1955-1989 | Dostoyevsky's Works in the Deluxe Parisian Book Market | If I Were a Rose, My Sweetheart, You Might Love Me Then.
PJRC Update (no. 11, Fall 2018)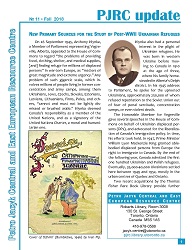 Content: New Primary Sources for the Study of Post-WWII Ukrainian Refugees | Prof. T. Lahusen's Collection on Vasilii Azhaev's "Far from Moscow" | Stalin: Man of Letters. The Stalin Digital Archive | By the Grace of God, We, the Great Sovereign, Tsar... | Index to Issues 1-10 (2008-2017) 
PJRC Update (no. 10, Fall 2017)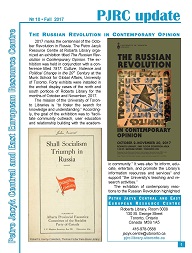 Content: The Russian Revolution in Contemporary Opinion | From a New Hope (1977) to The Last Jedi (2017) | Leonid Denysenko's Displaced Persons Camp Illustrations | Returning Home: Well-Travelled Documents | Professor Peter J. Potichnyj--Donor.
PJRC Update (no. 9, Fall 2016)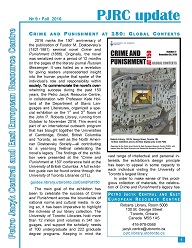 Content: Crime and Punishment at 150: Global Contexts | Toronto's East European Literary and Musical Landmarks | Revolutionaries, Firefighters, and Thespians | Collecting and Researching Soviet Legal Documents.
PJRC Update (no. 8, Fall 2015)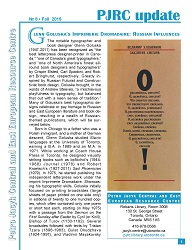 Content: Glenn Goluska's Imprimerie Dromadaire: Russian Influences | Ventures in East-Central European and Russian Copyright | Casting Type or Type Casting.
PJRC Update (no. 7, Fall 2014)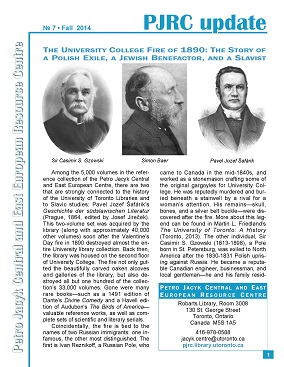 Content: The University College Fire of 1890: The Story of a Polish Exile, a Jewish Benefactor, and a Slavist | Discovering Slavic Journals in the Periodical Reading Room | Ex Libris Friedrich Hitzer: Russian Modernist Books | Eastern European Musicology: A Paradox of Paradigms | ANNO: Austrian Newspapers Online.
PJRC Update (no. 6, Fall 2013)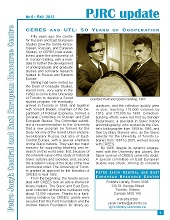 Content: CERES and UTL: 50 Years of Cooperation | Writers with Cameras: Literature and Photography in Russia | Slavic Humanities Index--A New Bibliographic Database | Ukrainian Women's Fate and Freedom | Social Media and the PJRC | 1923, 1933, 1943, 1953.
PJRC Update (no. 5, Fall 2012)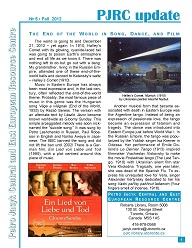 Content: The End of the World in Song, Dance, and Film | The Jaroslav Reichl Czech Book Collection | Peter Jacyk's Western Ukrainian Serials | Building Boundless Collections: Models of Giving | PJRC International Outreach--Prague | Women in History: Female Leaders of Central and Eastern Europe.
PJRC Update (no. 4, Fall 2011)
Content: Database of Soviet Samizdat Periodicals: 1956-1986 | Pashkievich Collection Doubles UTL's Belarusian Holdings | Ukrainian Icons: The Pursuit of a National Identity | Abolition of Serfdom in the Russian Empire, 1861-2011 | In Memoriam: Vlasta Scheybal (1926-2009) | In Memoriam: John Yaremko (1918-2010) | LibGuides: Guided Research Aid and Much, Much More.
PJRC Update (no. 3, Fall 2010)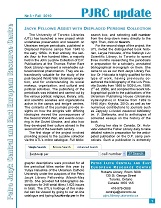 Content: Jacyk Fellows Assist with Displaced Persons Collection | The Joys of Being an Armchair Archaeologist | Edifices of Empire: Architecture of Austro-Hungary | Oldest Universities of Central and Eastern Europe | Saints and Sinners: Notable Central and East European Films in the University of Toronto Collections | Early 20th-Centry Russian Book Collection at the Art Gallery of Ontario: A Wonderful Local Resource.
PJRC Update (no. 2, Fall 2009)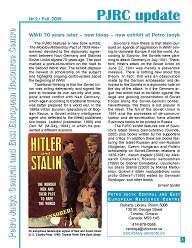 Content: WWII 70 Years Later: New Ideas, New Exhibit at Petro Jacyk | New 2010 Jacyk Library Fellow | Austro-Hungarica at the Thomas Fisher Rare Book Library | Ukrainian Art Song Project | UTL's Ucrainica Appears Online at the Internet Archive | Stalin Era Archival Records at the Thomas Fisher Rare Book Library | Creating the World's Memory.
PJRC Update (no. 1, Fall 2008)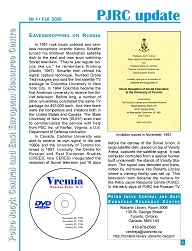 Content: Eavesdropping on Russia | Czechoslovakia 1968 | Paul Robert Magocsi: Scholar, Historian, Public Advocate | The Honourable John Yaremko Presents Gift to UTL | Petro Jacyk Library Fellow | Searching OPAC Using Cyrillic.