In-depth individual consultations can be arranged during regular business hours Monday-Friday, 10 a.m. to 6 p.m.
Staff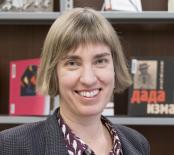 Ksenya Kiebuzinski,  Ph.D., Head, PJRC & Slavic Resources Coordinator
Specialist in bibliography and archival management. Research interests include French-Ukrainian cultural relations during the 19th century; theatre and politics; Orientalism.
416-978-1288 (M-W); 416-978-4826 (Th-F)
Natalia Barykina, M.A., Ph.D., M.I., Reference Specialist
Cultural geographer. Research interests include transnationalism, and modernist urban planning in Germany, Austria, and the USSR in the 1930s.
416-978-0588
Wasyl Sydorenko,  M.I.St., Reference Specialist
On staff at the University of Toronto Libraries for over 25 years. Studied at the Ukrainian Free University in Munich. Ukrainian specialist, musicologist, editor, publisher, and Cyrillic software consultant.
416-978-0588
Graduate Student Library Assistant:

Marcin Cieszkiel, PhD Candidate, Slavic Languages and Literatures
Interests include 19th and 20th century Polish literature and philosophy; ethics of writing; and aesthetics and responsibility.
416-978-0588